Knitted Copper Cleaning Mesh Cleans Screws and Barrels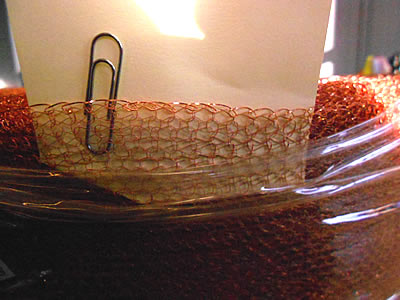 knitted copper cleaning mesh is mainly used for cleaning the screws and barrels of machine. Knitted wire copper mesh also can used to against the snails in garden and backyard.
Knitted copper cleaning mesh #1
Hole size: 4 - 8 mm.
Wire Dia.: 0.22 to 0.35 mm.
Flattened Width: 10 mm.
Used to clean extruder parts like barrel, cross-head, dies, etc.
Copper knitted cleaning mesh #2
Wire diameter: 0.1 - 0.15 mm.
Mesh size: 3 mm.
Width: 0.35 m.
Weight: 230 - 420 g/meter.
Knitted copper cleaning mesh #3
Width: 125 mm.
Wire diameter: 0.3 mm.
Weight per meter: 0.10 kg to 0.13 kg per meter.
Quantity: 20 kg.
Inquiry for Our Product
When you contact us, please provide your detail requirements. That will help us give you a valid quotation.