Multi-Strand Knitted Mesh with A Larger Surface Area and Higher Strength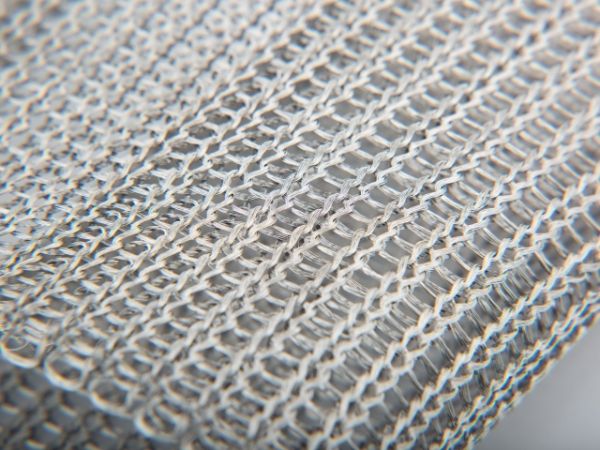 Multi-strand knitted mesh is a kind of wire mesh made by knitting more than one strand or filament material with knitters. In addition to the characteristics of common knitted wire mesh, it has a larger surface area and higher strength and is mostly used in heavy duty applications, for example, the filtration and separation in chemical and petrochemical industries.
Material
Stainless steel
PP
Copper
Aluminum
Inconel
Stainless steel multi-strand knitted mesh
PP multi-strand knitted mesh
Copper multi-strand knitted mesh
Features
Larger surface area and higher filtration efficiency.
Higher strength and enhanced loading capacity.
Suitable for heavy duty applications under high pressure and high load conditions.
Specification
Number of strands: 3 strands – 12 strands
Wire diameter: 0.1 mm – 0.3 mm
Width: 40 mm, 80 mm, 100 mm, 150 mm, 200 mm, 300 mm, 400 mm, 500 mm, 600 mm
In addition, other multi-strand knitted mesh sizes are available upon request.
Application
For gas-liquid separation, grease separation devices with up to 99.9% of filtration efficiency.
For intake and exhaust filtration systems in vehicle technology and engineering environmental applications. The deep filtration structure provides cleaner power support for the engine.
Provide cost-effective solutions for the basic treatment of colloidal systems (dispersions, emulsions), and effectively remove impurities (aerosols/dust/liquid particles, etc.) from oil-water mixtures and air.
For the brewing industry, the alcohol distilled by distillation copper mesh pads is smoother and more rounded and is less harsh and pungent.
For the edge protection ring of catalytic converter components to dissipate accumulated heat and is a thermally active compensation medium.
Multi-strand knitted mesh demister
Multi-strand knitted mesh grease filter
Multi-strand knitted mesh coalescing separator
Multi-strand knitted mesh air filter
Multi-strand knitted mesh distillation copper mesh pad
Multi-strand knitted mesh catalytic converter component
Inquiry for Our Product
When you contact us, please provide your detail requirements. That will help us give you a valid quotation.